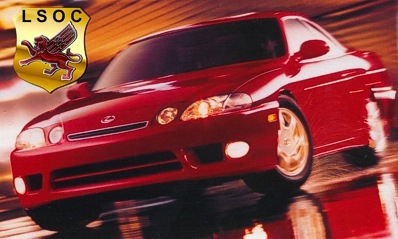 All Japanese Soarers have a digital dashboard display. Some of the V8 models come with televisions and built in Global Positioning Systems (GPS). Unfortunately the TV will not work in the UK without an expensive conversion (NTSC to PAL), which costs around £500 and requires the fitting of an external aerial. The GPS cannot be converted to work outside of Japan at all. The TV monitor can still be used for controlling the air conditioning system and stereo, as most of the necessary screen functions are in English. It will also operate in conjunction with the reversing camera, if the car has one fitted, and can be converted quite easily and cheaply to play DVD's too (we have a tutorial here on the site for that).
By far the rarest of all of the Soarer models is the V8 with active suspension. This car was a triumph in automotive design, incorporating four wheel steering and traction control. For many years it was the only active suspension vehicle that actually worked. It was also quite an expensive option in it's native Japan, and there were only 880 of them made. The MkIII Toyota Soarer/Lexus Coupe certainly made it's mark on the world. The amount of cars in the USA that resemble it is quite staggering. And it's been long rumoured that it had more than a little influence in the shaping of the Jaguar XK8.
Finally a little more about the phrase "Lexus Soarer". In August 2005 Toyota launched the Lexus brand on their own territory (interesting since the word LEXUS apparently stands for
L
uxury
EX
port to the
U
nited
S
tates). One the first vehicles from their fleet to be re-branded was, you've guessed it, the Soarer. The Toyota Soarer is no more. It is now known throughout the world as a Lexus SC430.